Home »
Chinese continue their rush to Europe; Spain a market to watch
Chinese continue their rush to Europe; Spain a market to watch
7th March 2017
Despite lower per-head spending being seen by Chinese travellers in some markets, the European duty free and travel retail market is still benefiting – with Spain doubling its numbers.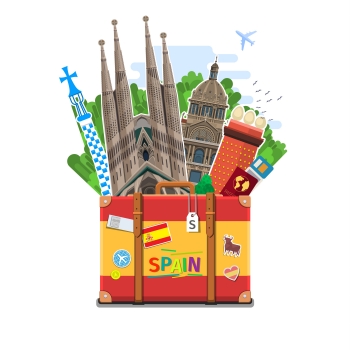 Newly-released data from CiR Business Lounge, the intelligence portal provided by Counter Intelligence Retail Travel, shows that air traffic growth from China to Europe hit +18.2% in 2016, although only three new airports on the continent opened new routes to the PRC last year (see image below).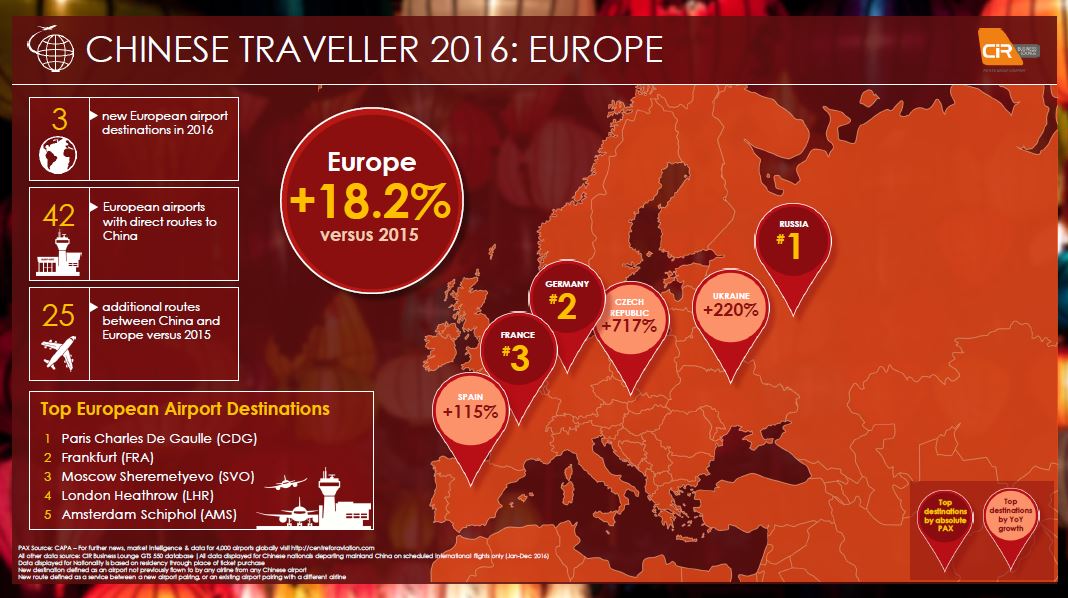 That has meant the extra numbers are funnelling through existing large hubs. The top five for Chinese travel in 2016 were: Paris Charles de Gaulle (CDG), Frankfurt (FRA), Moscow Sheremetyevo (SVO), London Heathrow (LHR) and Amsterdam Schiphol (AMS).
The biggest growth markets are…
However, the volume entry points for the Chinese do not always perform as expected, as described below. "Travel retailers may therefore do well to focus their attentions on some of the high-growth countries, as well as the large hubs," says Garry Stasiulevicuis, President of CiR.
In 2016, Business Lounge puts the Czech Republic at the top of the tree for Chinese growth with an incredible +717% followed by Ukraine at +220%. "While these increases may be from a small base, they are indicators of future potential," says Stasiulevicuis. "However, the market to watch is Spain – which is already a relatively mature one for DF&TR sales – and where Chinese numbers have doubled."
Air traffic to Spain from China grew by +115% last year as the country became a 'safe haven' from other terrorist-hit markets in the Mediterranean. In 2016, Spanish airports operator, AENA, reported traffic of 230.2m across its airports, up +11%, with sales at duty free shops rising by +13.6% to €285.2m ($302m).
"Our latest survey of Chinese travellers' buyer behaviour and shopping trends offers airport operators such as AENA a comprehensive breakdown of how Chinese from different tier cities spend in duty free," adds Stasiulevicuis. "It will enable them to leverage sales further."
Mixed performance for hubs
"While the top airports have the biggest Chinese volumes as mentioned above, this does not necessarily translate into top performances for duty free retailers," says Stasiulevicuis. For example, Groupe ADP, which runs CDG and Orly in Paris, noted a fall in airside shops revenue of -4.0% to just below €300m ($317m) last year, as spend/head fell by -8%.
Fraport, the operator of FRA, will reveal its full-year figures next week, but the 9-month results showed a -5% decline in retail sales and a -3% fall in retail revenue/pax. Here, there was a double whammy as Chinese numbers were down by -2% in the 9-month period and revenue/pax also fell; by a sharp -12%.
There is a silver lining
"On the other hand, UK airports like Heathrow – largely thanks to the low value of the UK pound since the June Brexit referendum – have seen decent gains in international traffic and retail sales," adds Stasiulevicuis.
According to its owner, Heathrow had its strongest growth in recent years – particularly at its duty and tax-free airside specialist shops. Total retail revenue increased by +7.7% to £612m ($751m) and spend/pax rose by +6.7%.
For further information on the Chinese Shopper, please contact: StephenH@counterintelligenceretail.com
---


NB. PAX Source: CiR Business Lounge | Advanced Analytics Tool - Data based on Scheduled departing international passengers only. Data displayed for nationalities is based on residency through place of ticket purchase