Home »
Russian International Traveller & Shopper Report - Available Now
Russian International Traveller & Shopper Report - Available Now
23rd June 2015
CiR has launched their new, in-depth report into Russian International Travellers and Shoppers.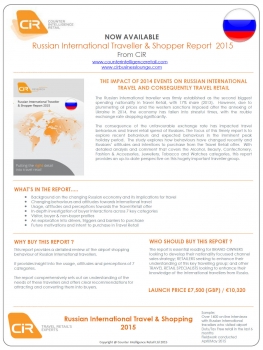 Following the turbulent times of 2014, its impact on the Russian economy and consequent fall in the value of the rouble, CiR conducted a research study in April 2015, amongst Russian international travellers, to investigate the effect the unfavourable exchange rate is having on their international travel behaviour and travel retail spend. This timely report provides new and detailed insight on changes in behaviour during 2014 and predicted behaviours for the forthcoming summer holiday period.
The research reveals that, compared to 2013, 3 in 10 are flying internationally less frequently nowadays and there is a higher proportion of travellers claiming their travel frequency will reduce in 2015 than occurred in 2014, so the adverse effect on international travel frequency will continue to build in the short-term. However, one third have increased their foreign travel over the last couple of years, especially amongst younger Russians, so there still remains a high level of Russians shopping Duty Free.
Shopping is an integral and habitual part of travel behaviour for many Russians and half claim their spend in Duty Free will increase in the future, bolstered by increasing numbers of younger travellers gaining access to desirable products. This report focuses on understanding the emerging needs and preferences of shoppers now and offers clear recommendations for attracting and converting them into buyers within Travel Retail.
The report contains detailed analysis of purchasing motivations and behaviours across 7 categories, Alcohol, Beauty, Confectionery, Fashion & Accessories, Jewellery, Tobacco and Watches, with cross-category comparisons to provide useful industry and category benchmarks as well as exploring the opinions and barriers to purchase for non-buyers.
To view samples slides and see full list of contents click here.
For more information on this report contact Deborah Jones, Research Manager, on deborah@counterintelligenceretail.com or enquiries@counterintelligenceretail.com