Home »
CiR Talk BRIC At MEADFA Conference 2014
CiR Talk BRIC At MEADFA Conference 2014
26th November 2014
CiR Managing Director, Garry Stasiulevicuis, was invited back to speak at this year's two-day MEADFA conference at the Jumeirah Creekside Hotel in Dubai.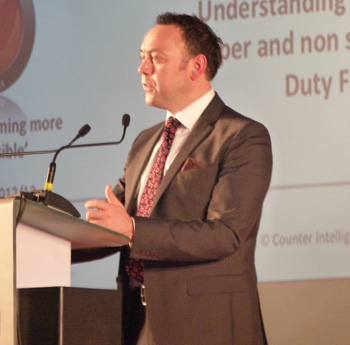 Speaking on day one of the conference in a session entitled 'Understanding BRIC Travellers' Stasiulevicuis drew on CiR research conducted on behalf of TFWA into the shopping behaviour of travellers from Brazil, Russia, India and China to discuss whether the current airport retail offer is truly adapted to their needs.
While detailing the key findings from the Russian Traveller, of all those who plan to travel abroad, 80% plan to visit a travel retail store, 70% plan to purchase and 90% actually make a purchase, leaving 10% who don't buy at all. In addition, 35% are looking for their regular brand, 34% look for value from a purchase and 33% state that quality is key to their purchasing decision.
42% of Russians take advice in store and 20% state that sampling is likely to influence their purchase. Also, 42% have a clear budget in mind, while more than 30% prefer three for two offers.
Having said this, Stasiulevicuis went on to state that almost 55% of Russians do not maximise their allowance and 14% of those interviewed said having to carry goods is a barrier to them spending anything. Interestingly, 18% of Russians also stated that their barrier to purchase was linked to concerns over authenticity of the goods.
Turning to research on Indian traveller spending, Stasiulevicuis said that of those researched, 80% plan to visit a store, 77% plan to purchase and 54% of those purchases are made in duty free. A total of 42% also stated that quality is a key driver to purchase and 66% have some interaction with staff.
For a copy of the presentation or to discuss your research requirements, please get in touch.